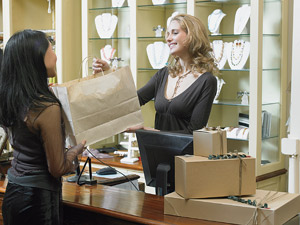 There are many credit card processing companies out there and selecting the one that will offer the best solution to your needs can be challenging, to say the least. There are several factors to consider when choosing a small business merchant accounts provider, whether you are looking for a virtual, physical or a manual credit card processing solution. First and foremost, you want to be sure that you don't get overcharged. The payment processing cost consists of several components and you need to know exactly how much you will be paying for each one of them:
Discount rate - the amount a merchant is charged by his acquirer for processing the merchant's transactions. It consists of a percentage fee (e.g. 2.25%) and a fixed, per transaction, charge (e.g. $0.25). For an internet or direct marketing account it should be no more than 2.20% + $0.25 per transaction. For Retail accounts it should be no more than 1.70% + $0.25 per transaction.


Authorization fee - another "per-transaction" fee. You should not pay more than $0.12 for any type.


Application and set up fee - one-time fees to apply for and set up your credit card processing service. You should NOT pay ANY set up or application fees!


Monthly maintenance fee - as the name suggests, it is charged monthly to keep your account on file. You should not be paying more than $10.


Support fee - another monthly charged for customer service. You should not pay any such fees.


Payment gateway fee - specific to the eCommerce industry. An eCommerce payment gateway is the service that connects your website with your processing bank and transmits transaction information between them. You will only need it if you want to let customers pay you over the web and it should not cost you more than $15 per month.
If you see any other charges for your merchant services credit card processing account, you will be well advised to look elsewhere. Also, when evaluating a new credit card processing service proposal, your prospective processors should provide you with comparison tables to make your choice a better informed one.
Other important factors you need to consider when selecting a merchant services provider are:
Experience - this can be a double-edged sword. On the one hand, you want to be sure that your processor will have the expertise to get the job done. On the other hand, many well established card processing companies offer substantially higher rates, justifying it exactly with their long record and the piece of mine that it brings you. You should not be overpaying just because they've been in business for a while.


Customer support - you will want to make sure that you will be getting knowledgeable support when you need it, because you will need it.


Chargeback management - chargebacks result when customers dispute transactions and can be costly and time consuming. In extreme cases, you may even lose your business merchant account. You will want to make sure that your merchant account provider has the expertise to help you reduce the level of chargeback-generating disputes. We have developed our Payment Card Acceptance Best Practices Guide to do just that.
There are other factors as well and you will need to do you complete due diligence, as selecting the right merchant payment services company will reduce your processing costs and help grow your business.
You can review our latest pricing
here
.